To see dates & locations of Reiki classes or Reiki Circles we lead: Click Here.
To order Margo's Reiki textbooks or Instructor Book (e-book or printed): Click Here.
---
CREDENTIALS: Margo Dai Sensei, a former high school and college English professor, has been teaching Reiki since 2003 to over 300 students (to nurses, therapists, doctors, parents, teens, etc.). She has published all 4 levels of Reiki student manuals (for sale HERE), and published several articles on Reiki in NC, VA and online. Her Reiki Master Teacher lineage is through Catherine Phillips back to Mrs. Takata to Usui Sensei, and via 2 other Teachers as well. David Dai Sensei has been teaching Reiki since 2009 to 150+ students, and his lineage goes through Meredith Viguers and Margo (before marriage).
---
Reiki is Japanese touch therapy (also non-touch), founded in 1914 by Doctor and Sensei Usui Mikao. Reiki is believed to be based on the techniques found in the Medicine Buddha from thousands of years ago in the far East. However, Reiki is now an internationally popular form of energywork in which the practitioner helps a client move healthy energy through the body so the client can heal her/himself. Anyone may learn all Reiki skills for treating yourself, pets, relatives, friends, clients & many other things:
Training is for life; a permanent certification of this skill with NO renewal ever needed.

Study and stop at any level you wish in this order: first, second, master or master teacher degree levels.

Treat yourself with Reiki, also your clients, friends, family, pets, food, medicine, plants, your life, co-workers, strangers, and MUCH more!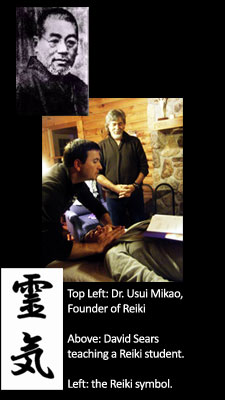 How Long does it take to study? It is different with different teachers. When we teach, we do it as follows:
Reiki I = 6 classroom hours + brief homework
Reiki II = 6 classroom hours + 1 hr homework
Reiki Master = 10-12 hours + 2-6 hrs homework
Master Teacher = 10-12 hours + 8-48 hrs homework
Material covered inside lessons is VERY different among teachers. In our lessons you receive:
An illustrated & color student manual to keep, at each level
Reiki history & philosophies
Multiple attunements at each level
Sacred Reiki Symbols and uses (Reiki II and up)
Multiple group discussions
Guided practice time in every lesson
Meditation instruction & practice
Basic & advanced chakra education
Cross-applications of Reiki to other energywork
Personal support by your Sensei (teacher)
Homework is practicing your new Reiki skills & reviewing manual
Framable, legal certificate at completion of each level …and much more.
At Master levels, we teach at least 11 additional Reiki techniques and advanced master meditations besides standard hands-on skills. At Teacher level, students get 3 more textbooks from us and learn to pass 5 different attunements, along with much self-healing in the process. No teaching is required after Teacher level, however it is a marketable income trade for the rest of your life.
Private lessons for your group are available by request between November 1 March 15 only.
Youth classes for Reiki I certification available by request for ages 5-12 years with a parent or other adult. Class is 3 hours, designed for children, and both child and adult get attuned and certified.
We set practical age limits on our regular classes: Reiki I and II classes are for ages 13 and up. Reiki Master and Teacher levels may begin at age 18. Your questions are welcome.
For questions, please contact us. Reiki classes and events are on our Events page.
Other Services

Reiki I or II certification – $200
Reiki Master certification – $400
Reiki textbooks – $10 to $50
Reading & Reiki – in person at Sunset Beach $100/hr
Reading Only – at Sunset Beach $75/hour
Reading Only – on phone $60/hr, or $30/half-hour
Group Readings – your place $20-50/person + travel fee. 4-10 adults. Flexible fee & time.
Private Group Readings – at Sunset Beach $30-50/person, 3-6 adults.
Private Group Readings – on phone conf. call, $25/person. Requires 4-6 adults.
Gift Certificates available!
At Parties, email Margo.
Wedding Officiant $300 & up
(Discounts military/police/fire)
Photography & Portraits $400 & up
APPOINTMENTS & QUESTIONS: margo@indigoanswers.com